36 years of pain went away!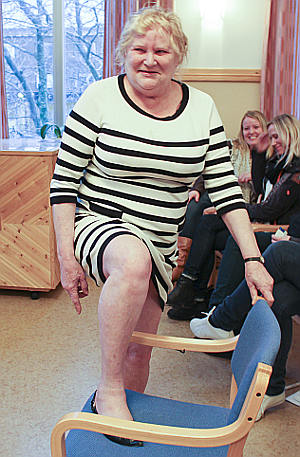 NEW FOOT: Lilly Winther from the city of BodÝ was incredibly happy that her ankle ailments she had struggled with for 36 years disappeared. -I felt a fireball go through my foot and the pain disappeared, she says.
For 36 years Lilly Winther struggled with a painful ankle. When receiving prayer in BodÝ, she felt a fireball go through her foot, and the pain disappeared immediately.
In September 1976 Lilly Winther was out walking. Suddenly she stumbled and twisted her right foot. It hurt very much, and she had to use crutches in the first time that followed.
-I did not do much with the problem. The pain had been re-occuring ever since. But at times the pain has been very severe. I have been working as a meat and dairy farmer. My painful ankle has therefore constantly been a challenge. In recent times, I have been cleaning houses, and the pain was more frequent.
Lilly Winther had earlier heard about Svein-Magne Pedersen and the ministry. She had also experienced getting healed and therefore fully believed in healing. Lilly showed up early and got a low number in the queue. She was therefore one of the first to receive prayer from Svein- Magne that Saturday evening.
-When he laid his hands on me it was like a fireball that went into my foot. I had never imagined it that way, and it was just fantastic. I went to take my seat, and after the warmth decreased, the pain went away as well.
-Today I cannot feel anything. I had never had my doubts about healing, because I have a great Jesus. I am incredibly happy and I give Him all the glory, she concludes happily.